News
Gran Hotel Turismo announces the Roca Awards to the Best Hotel Initiative in Madrid
02/26/2016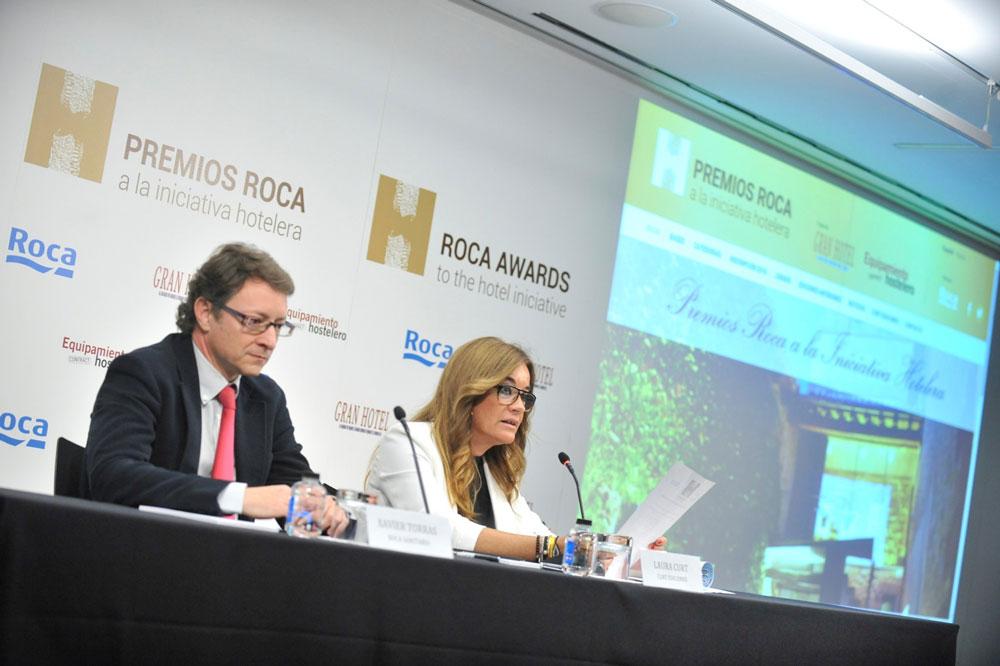 Magazine Gran Hotel Turismo announced the Roca Awards to the Best Hotel Initiative at an event held at the Roca Madrid Gallery. Present were Laura Curt, Director of the Roca Awards to the Best Hotel Initiative, and Xavier Torres, Roca Brand Communication Manager. The event also played host to a round table session debating design in hotels.
The awards, organised by publisher Curt Ediciones' Gran Hotel Turismo and sponsored by Roca, have the goal of honouring the hotels and professionals attaining the highest standards of quality in areas such as architecture, cuisine, facilities and tourist promotion.

As Xavier Torras noted: "the main goal of the Roca Awards to the Best Hotel Initiative is to raise the profile of the Spanish tourist industry, which, for the first time, tops the world Travel and Tourism Competiveness Index drawn up by the World Economic Forum". He also highlighted how "Roca, with its close to 100 years of history, has developed significant areas of expertise, among them that of hotels".

For her part, Laura Curt stated that: "the 2016 edition of the Roca Awards to the Best Hotel Initiative features refreshed categories and a series of special prizes". Innovations include the new Seaside Holiday Hotel and Mountain Holiday Hotel categories, the new award from the We Are Water Foundation for the best Sustainable Hotel and new honours for destinations Dubai and Portugal.

The Roca Awards to the Best Hotel Initiative categories are:
‒ Hotel Architecture
‒ Renovation
‒ Seaside Holiday Hotel
‒ Mountain Holiday Hotel
‒ Hotel Cuisine
‒ Conference and Convention Hotel
‒ Wellness Hotel
‒ Urban Hotel
‒ Sustainable Hotel (We Are Water Foundation Award).
There are also a range of Special Awards:
‒ Holiday destination awards:
· Award for Hotel Innovation in Portugal
· Award for Hotel Innovation in Dubai
‒ Special Grand Jury Prize
‒ Hotel and Tourism Personality Honour Award
The deadline for submitting candidates for the Roca Awards to the Best Hotel Initiative is the coming 15 April, via the website www.premiosgranhotel.com.

The awards ceremony will take place at the Roca Barcelona Gallery at 8:30 p.m. on 16 June 2016. Invitees will include award nominees as well as leading authorities from the world of tourism and representatives of the hotel sector.

Debate on design in hotels
After the announcement, a round table session entitled El diseño, la clave de la experiencia hotelera (Design, the key to the hotel experience) took place. There, Carlota Tapias, interior designer at Land Estudio, Francisco Patón, Madrid Restaurant Director for Derby Hotels Collection, Luis Bartolomé, Executive Chef at the NH Collection Eurobuilding hotel, and Vicky Vilches, journalist at Fuera de Serie, Esquire and Dapper magazines, shared their different perspectives on the importance of design in configuring hotel spaces and services, from culinary offerings to the interior design of bedrooms.