News
Gran Hotel Turismo hands out the Awards to the Best Hotel Initiative at the Roca Barcelona Gallery
10/30/2014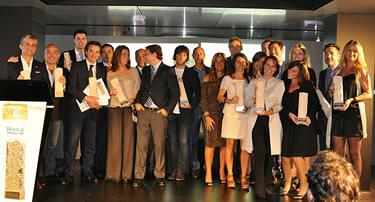 The Awards to the Best Hotel Initiative, organized by the magazine Gran Hotel Turismo and sponsored by Roca, were handed out yesterday during a dinner held at the Roca Barcelona Gallery.
The event was attended by nearly 200 people, including authorities, representatives of the hotel and catering industries, and press.
The authorities that attended the event included: Jordi Portabella, Councilman of Barcelona City Council; Ramón Riera, Tourism Deputy at Barcelona Provincial Council; and Benet Maimí, member of the Catalan Parliament.
From the hotel business, the award giving ceremony of these distinguished awards was attended by representatives from the major hotel chains, such as Meliá Hotels International (Innside, Gran Meliá, Sol Wave…), Elba Hoteles, Confortel Hoteles, Palladium Hotels & Resorts (Only You, Ushuaïa and Ayre Hoteles), Starwood Hotels & Resorts, H10 Hotels, Room Mate Hotels, Majestic Hotel Group, Evade Hotels, NH Hotel Group (NH Hotels and Hesperia Hotels), Paradores, AC Hotels by Marriott, Jumeirah Hotels, Barceló Hotels & Resorts, Villapadierna Hoteles, Mercer Hotels, Hoteles Center, Royal Hoteles, among others.
The event also included representation from the Haute Cuisine, with Michelin Star winner chefs such as Jordi Cruz, from Abac Hotel's Restaurant, and the twin brothers Javier and Sergio Torres, from the Dos Cielos restaurant of Meliá Barcelona Sky.
The winners of the 10th Edition of the Awards to the Best Hotel Initiative are:
ARCHITECTURE
Room Mate Aitana – Amsterdam (Netherlands)
REFURBISHING
Only You Hotel & Lounge Madrid – Madrid
REMODELLING
Majestic Hotel & Spa – Barcelona
HOLIDAY
Meliá Palacio de Isora – Guía de Isora (Tenerife)
CUISINE
Abac Restaurante Hotel – Barcelona
CONFERENCE AND CONVENTION
W Barcelona – Barcelona
WELLNESS
Gran Hotel Las Caldas Villa Termal – Las Caldas (Asturias)
COUNTRYSIDE
El Convento de Mave – Santa María de Mave (Palencia)
URBAN
Gran Hotel Nagari Boutique & Spa – Vigo (Pontevedra)
SINGULAR
Cava Hotel Mastinell – Vilafranca del Penedès (Barcelona)
BEST TECHNOLOGICAL EQUIPMENT
NH Collection Eurobuilding – Madrid
BEST DIGITAL CONTENT STRATEGY
Hotel Bécquer – Sevilla
CHAIN
H10 Hotels
TOURIST PROMOTION
Agència Catalana de Turisme
GRAND JURY PRIZE
On a meeting held yesterday, the jury decided to award The Grand Jury Prize to the Hotel Confortel Suites Madrid in acknowledgement for their strong commitment to social and professional integration.
The jury members are: Enrique Curt, CEO and Founder of Curt Ediciones; Miguel Ángel Almodóvar, Food Critic; Domènec Biosca, President of Asociación de Expertos en Empresas Turísticas; Álvaro Carrillo de Albornoz, Managing Director at Instituto Tecnológico Hotelero; Laura Curt, Manager of the 10th Edition of the Awards to the Best Hotel Initiative; Ascensión Durán, Member of Honour at OPC Spain; Juan Molas, President of the Confederación Española de Hoteles y Alojamientos Turísticos; Jesús Nuño de la Rosa, Managing Director of Viajes El Corte Inglés; José Ángel Preciados, Managing Director of Confortel Hoteles; Lázaro Rosa-Violán, Manager and Designer at Contemporain Studio, Xavier Torras, Brand & Communication Manager at Roca; and Sergio and Javier Torres, Executive Chefs at the restaurant Dos Cielos of Hotel Meliá Barcelona Sky.
The Awards to the Best Hotel Initiative were created in 1993 by Gran Hotel Turismo. Their aim is to acknowledge the hotels and their managers for their contribution to a sector in constant development and that seeks to continually reinvent itself and cause a sensation. Achieving one of these awards contributes to the prestige of those who work to improve the tourist industry, which is the main engine of Spain's economy and of which Gran Hotel Turismo is also part.
The Awards to the Best Hotel Initiative are sponsored by Roca, with the participation of Amenities Pack Novotecnic, Grupo Solsegur, Viajes El Corte Inglés, Vermut Miró, Bardinet, Bellsolà, Duni, Torelló, Enrique Tomás, Interpharma, Resuinsa, Tea Shop, Sushi Box, Mastinell, NB Gin and Fever-Tree.