News
Only one month left for entering the Roca Awards to the Best Hotel Initiative
03/11/2016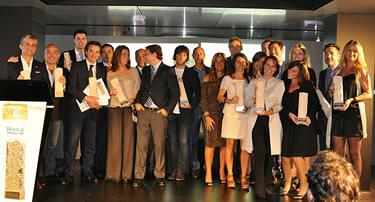 Entries are still being accepted for the Roca Awards to the Best Hotel Initiative. Hotels and chains wishing to submit candidates for these honours can do so on the website www.premiosgranhotel.comuntil 15 April 2016.
In the 2016 Awards, organised by Gran Hotel Turismo magazine and sponsored by Roca, submissions are being accepted for the following categories:
1. Hotel Architecture
For the new build hotel or refurbished building for hotel use, opened from 1 January 2014 to 31 December 2015.
2. Renovation
Works carried out from 1 January 2014 to 31 December 2015. We will take into account hotel renovation and redecoration aimed at improving facilities and atmosphere.
3. Seaside Holiday Hotel
For hotels aimed mainly at offering their guests an enjoyable seaside holiday. Takes into account location, surroundings, cuisine, facilities, recreational activities, etc.
4. Mountain Holiday Hotel
For hotels aimed mainly at offering guests an enjoyable holiday in the mountains. Takes into account location, surroundings, cuisine, suitable facilities for mountain sports, etc.
5. Hotel Cuisine
Judges both the quality and the creativity of the cuisine offered, as well as front-of-house service.
6. Conference and Convention Hotel
Based on the quality of the facilities for holding conferences, conventions and incentive events, as well as audiovisual and technical services, catering options, communication, etc.
7. Wellness Hotel
The establishment that offers the most comprehensive thermal, thalassotherapy, spa, relaxation, beauty and other treatments, as well as healthy cuisine.
8. Urban Hotel
For establishments with a great location in a city that favours the use of the hotel for both work/business purposes and recreational city breaks.
9. Sustainable Hotel–We Are Water Foundation Award
For the hotel offering the most sustainable and innovative water and energy saving solutions.
Additionally, a number of Special Awards have been established:
1. Holiday Destination Awards
- Hotel Innovation in Portugal.
- Hotel Innovation in Dubai.
2. Special Grand Jury Prize
The jury reserves the right to grant special prizes in recognition of a hotel's cultural offerings, for outstanding work by a tourist office, region or country in promoting tourism, for a company's efforts to improve its technology or encourage eco-friendly behaviour, etc.
3. Hotel and Tourism Personality Honour Award
The Roca Awards to Hotel Initiative ceremony will be held at the Roca Barcelona Gallery on 16 June 2016, with the collaboration of Mastinell, Sahita, Viajes El Corte Inglés, Saxun, Orac Decor® and Eurofred.