News
The winners of the Roca Awards to Hotel Initiative have been announced
06/22/2016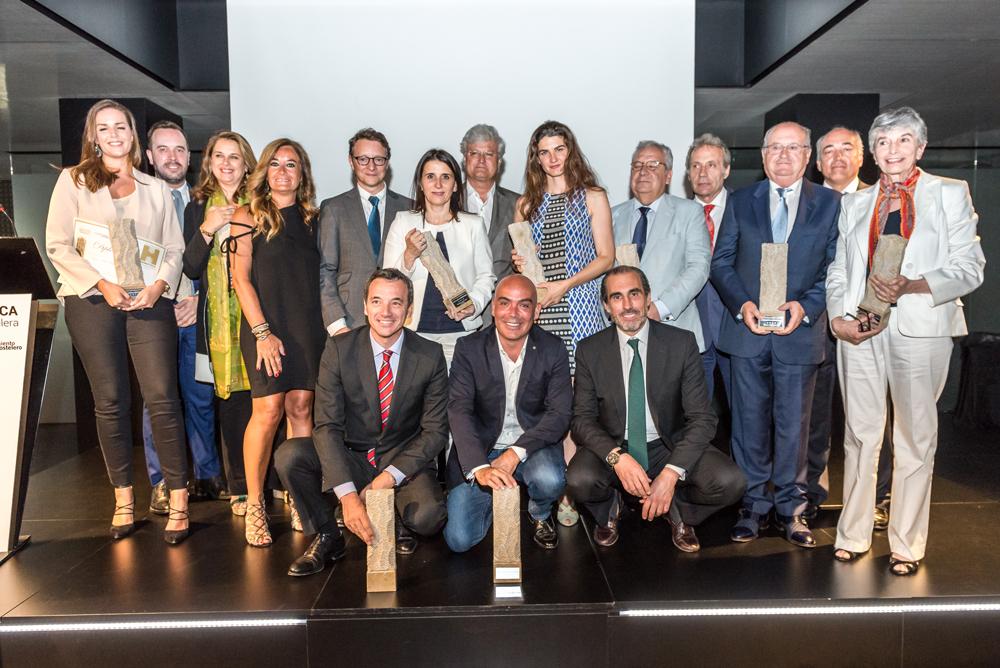 The Roca Awards to Hotel Initiative, organised by the magazine Gran Hotel Turismo, were presented yesterday evening at a gala that took place at the Roca Barcelona Gallery.
The event gathered around 250 people, among them representatives from the hotel, tourism and gastronomy sectors, suppliers of hotel and restaurant equipment, and press.
The winners of the 11th edition of the 2016 Roca Awards to Hotel Initiative have been:
ARCHITECTURE
Cotton House Hotel, Autograph Collection Barcelona
REFURBISHMENT
María Cristina, a Luxury Collection Hotel San Sebastián (Guipúzcoa)
BEACH RESORT
Barceló Sancti Petri Spa Resort Chiclana (Cádiz)
MOUNTAIN RESORT
Hotel Mas de la Costa Valderrobles (Teruel)
GASTRONOMY
NH Collection Eurobuilding Madrid
CONGRESSES AND CONVENTIONS
Catalonia Barcelona Plaza Barcelona
HEALTH
Healthouse Las Dunas Health & Beach Spa Estepona (Marbella)
CITY HOTEL
Olivia Plaza Hotel Barcelona
SUSTAINABLE-WE ARE WATER FOUNDATION
Ilunion Málaga Málaga
HOTEL INNOVATION IN PORTUGAL
Vincci Porto Oporto
HOTEL INNOVATION IN DUBAI
Armani Hotel Dubai
The jury also decided unanimously to present two special awards in a meeting held yesterday: the Grand Jury Prize and the Honour Award in Recognition of a Hotel and Tourism Personality.
The Grand Jury Prize is presented to the Room Mate Hotels and to its president and founder Kike Sarasola for developing in little more than ten years a chain with a global and international vision. Room Mate has currently 23 hotels available in six international markets and is planning to open eight new hotels in the next twelve months, doubling the number of rooms available. It also commits to design, technology and innovation with new tourist models, such as the creation of the platform of tourist apartments Bemate.com.
On the other hand, the Honour Award in Recognition of a Hotel and Tourism Personality is presented to Rufino Calero, president of Vincci Hoteles, for his contribution, in a career of more than 60 years, to the Spanish hotel and tourism sector. Fifteen years ago, Rufino Calero created a hotel chain with four-star and five-star exclusive accommodations, an excellent location and a different personality. Now, in 2016, he has 39 hotels in Spain, Portugal and Tunisia, with the plan to reach 40 hotels in the next few months.
The jury of the Roca Awards to Hotel Initiative is made up of: president, Enrique Curt, founding president of Curt Ediciones; Laura Curt, director of the 11th edition of the Roca Awards to Hotel Initiative; Miguel Ángel Almodóvar, food critic; Domènec Biosca, president of the Association of Experts in Tourist Companies ( Asociación de Expertos en Empresas Turísticas); Álvaro Carrillo de Albornoz, CEO of the Hotel Technological Institute (Instituto Tecnológico Hotelero); Ascensión Durán, honorary member of OPC Spain; Juan Molas, president of the Spanish Confederation of Hotels and Tourist Accommodation (Confederación Española de Hoteles y Alojamientos Turísticos); José Ángel Preciados, CEO of Ilunion Hotels; Xavier Torras, brand & communication director at Roca; Sergio and Javier Torres, executive chefs of the Dos Cielos restaurant at the Hotel Meliá Barcelona Sky, and Fernando Tomás Ginés, director of Communication and Trip Promotion at Viajes El Corte Inglés.
The Roca Awards to Hotel Initiative are sponsored by Roca, with the collaboration of Amenities Pack, CEX-Cerdos Extremeños, Eiralabs, Eurofred, Feria del Mueble Yecla, FunderMax, Giró Gin, Mastinell, Orac Decor, Piscina & Wellness Barcelona, Sahita, Saxun, Tattoo Contract, Vandemoortele and Viajes El Corte Inglés.